Digital Camera's MP3 players PDA's and cell phones use a variety of different kinds of memory cards. There's an alphabet soup of formats CF, SD, xD, MS and so on. Despite the confusing names the different formats of memory cards are actually simple to understand.
Compact Flash (CF): One of the first memory card formats used in digital photography. It is the largest sized memory card. Compact flash cards have the largest data storage capacity and fastest data transfer rate. Compact flash is still in professional and prosumer digital cameras.
Secure Digital (SD): Secure Digital is the most common memory card used in all kinds of portable electronics. Varients called mini sd and micro sd are used in cell phones to store pictures and songs. Mini and micro sd cards can be used with a special adapter to for reading by computers with a memory card reader. Because it's the most common Secure Digital provides the best value for money.
Memory Stick (MS): Memory Stick is Sony's proprietary memory format for their devices. Sometimes erroneously used as a generic term for memory cards.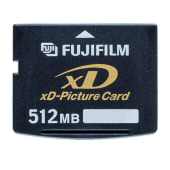 eXtreme Digital (xD): xD is the memory card format used on FujiFilm and Olympus digital cameras. While xD is the smallest memory card format the speed that pictures that are written to the card is slower than other formats.
Smart Media (SM): One of the other original memory card formats used by digital cameras and MP3 players. Smart Media were very limited in storage capacity and data transfer speed was slow. Smart Media cards and devices that use Smart Media haven't been made in several years.
MultiMedia Card (MMC): The ancestor of Secure Digital cards, MultiMedia cards have less data storage capacity and are slower at transferring data than SD cards. While MultiMedia cards can still be purchased new devices that use MMC memory only are extremely rare.